You Don't Need to be Psychic to Receive Guidance and Inspiration Offered by the 78 Cards of the Tarot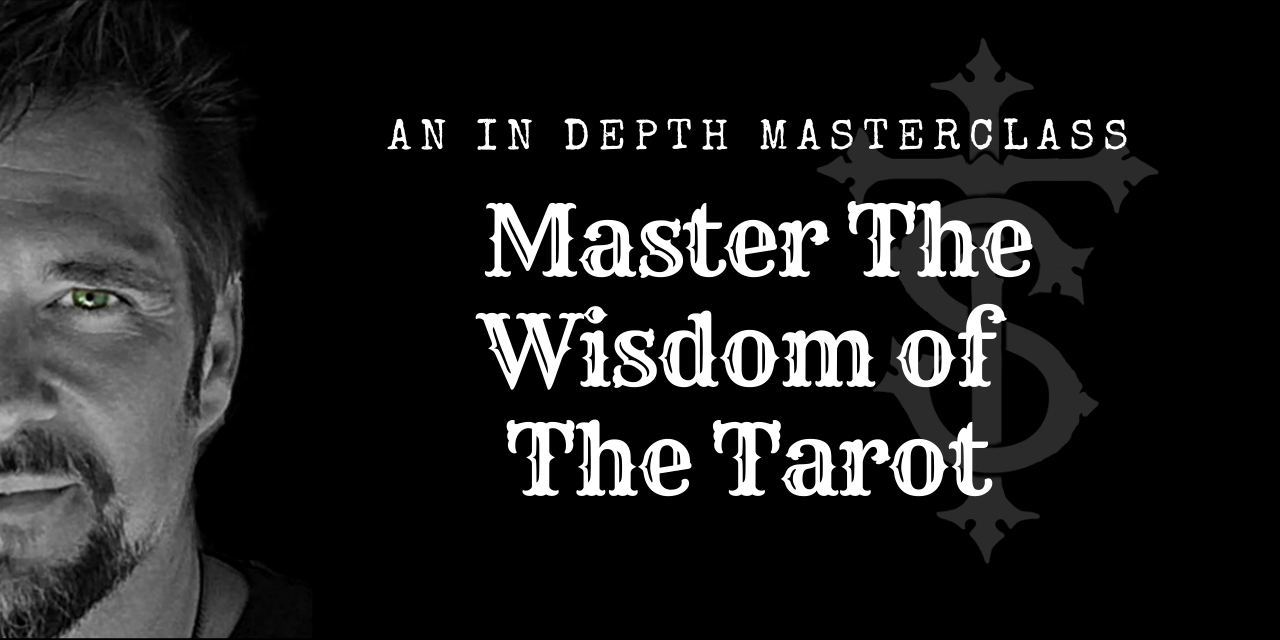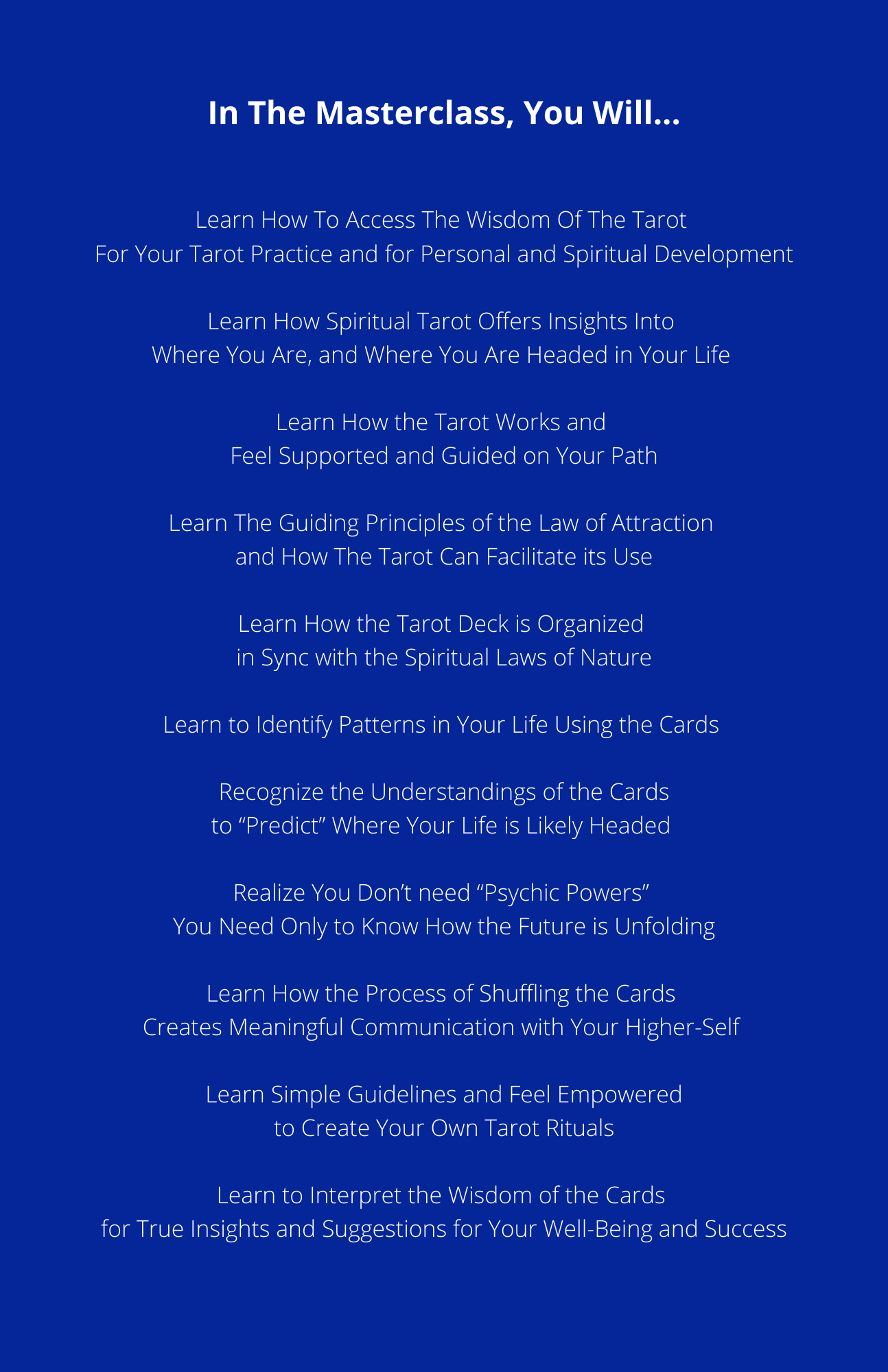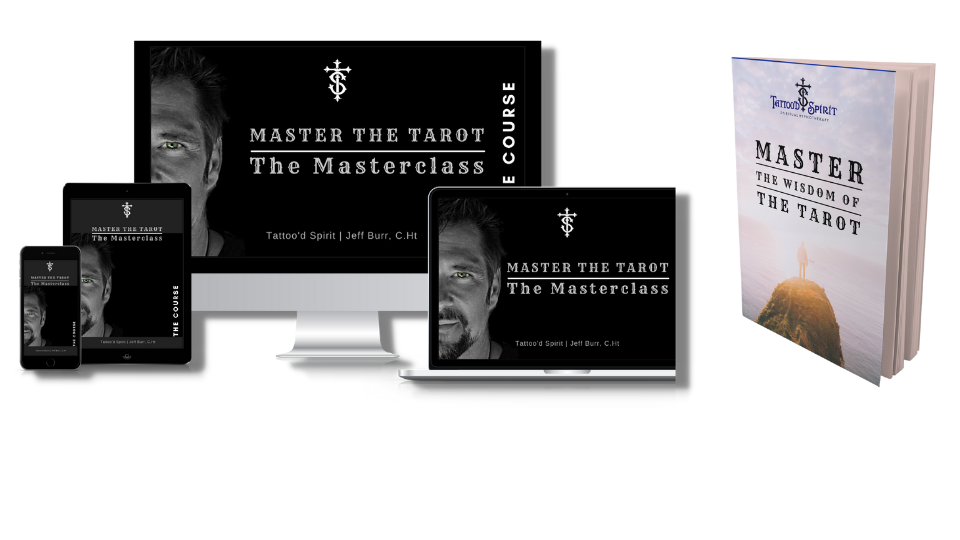 ACCESS THE WISDOM OF THE TAROT
FOR PERSONAL AND SPIRITUAL DEVELOPMENT
Understand the cards and how to use them in your own life and in service to others. A transformative learning experience that will offer a new perspective on how your future is unfolding and what influences you have on its outcome.
Start looking to yourself for the guidance that you seek. Begin feeling supported, inspired and guided by the wisdom found in the cards of the Tarot deck. Gain a new understanding of how the traditional 78 card Tarot deck is structured around spiritual concepts and The Law of Attraction.
This is an in-depth course that took years to build. It is not a quick, condensed hi-light reel. Take your time with it. Allow it to transform your way of looking at the world around you.
Many students decide to share the course with people in their lives on similar paths and then go through the exercises together. There are numerous ways to absorb this powerful information, but do so at your own pace and in a way that feels best for you.
Remember...it's all about the journey.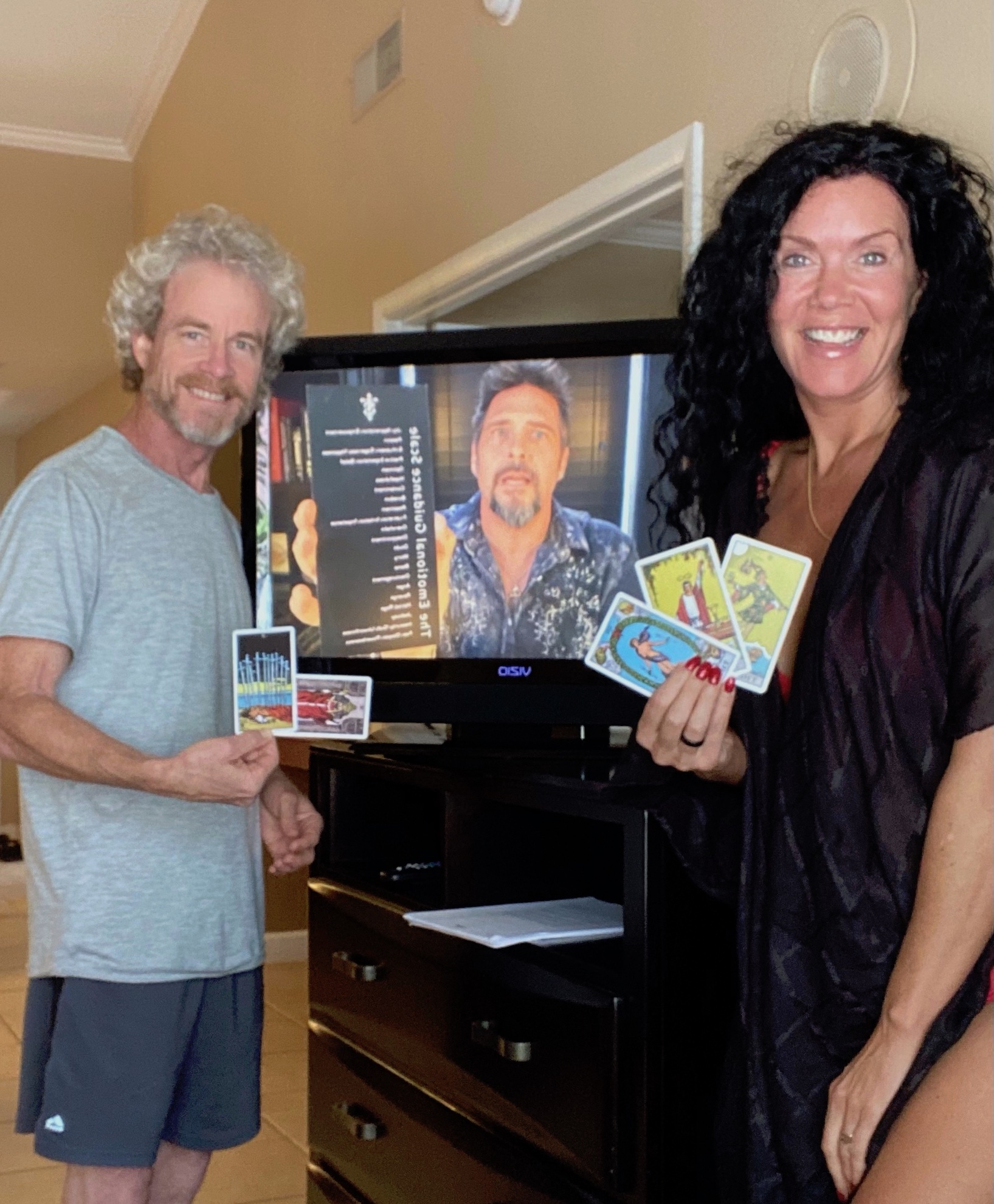 SOME FEEDBACK WE'VE RECEIVED...
"I have three words for this whole experience: AMAZING AMAZING AMAZING. Great tools for growing our life forward!
I love using the Tarot in this way to tap into our Higher Self for our growth in this world, and our inner being and oneness with the Universe and all that is. I can't tell you how amazing this experience has been, so I will just say WOW, and so good I will say it backward WOW".
- Joany, Owner/Instructor, Feminicity,
Ontario, Canada
Course Curriculum
2 - GETTING THE MOST FROM THIS COURSE
Available in days
days after you enroll
3 - LET'S TALK ABOUT THE DECK, TAROT & "FORTUNE-TELLING"
Available in days
days after you enroll
PRICING
We have two options so that you can learn at your own pace. The course is priced at $599 for lifetime access. However, to make it more accessible to all, we have added a monthly membership option at just $29/month. Stay as long as you'd like and cancel anytime. If you stick around you'll be able to enjoy the additional materials and resources, including some live deep dives and Q&As, that will be added periodically, as we take this journey together.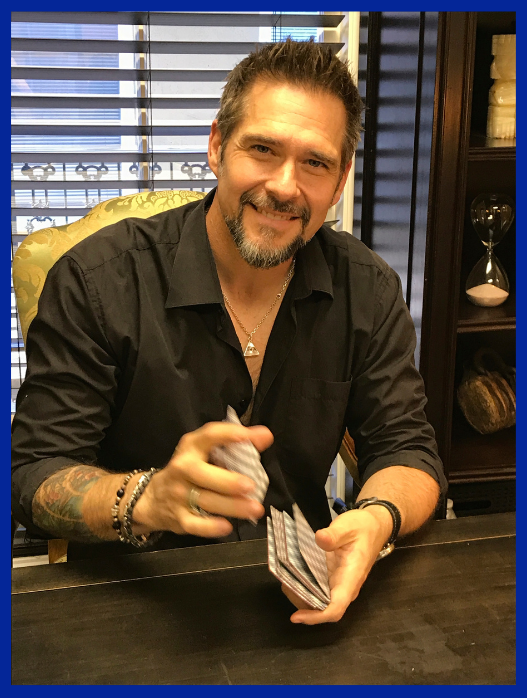 This course has been a true labor of love for me to put together and I can't wait to share it with you! Wherever you are on your spiritual journey, I send you my best wishes for an incredible 2022!
~Jeff
Frequently Asked Questions
When does the course start and finish?
The course starts now and never ends! It is a completely self-paced online course. You decide when you start and at what pace you'd like to learn. New materials and resources will continually be added to keep you focused on your journey.
How long do I have access to the course?
Membership subscribers will have access as long as they are members. And lifetime access subscribers, will have unlimited access to this course for as long as they like - across any and all devices you own.
What if I am unhappy with the course?
We would never want you to be unhappy! If you are not completely thrilled with your purchase, contact us within the first 30 days of lifetime access, or within 30 days of a monthly membership renewal, and we will give you a full refund of either the lifetime access payment, or of the current monthly membership fee.
What if I have questions, as I go through the course?
Jeff would love to hear your questions, feedback and any observations you may have as you make your way through the course. Just drop him an email at
[email protected]
and he'll reach out in whatever way is most convenient for you (call/text/email).
Your Instructor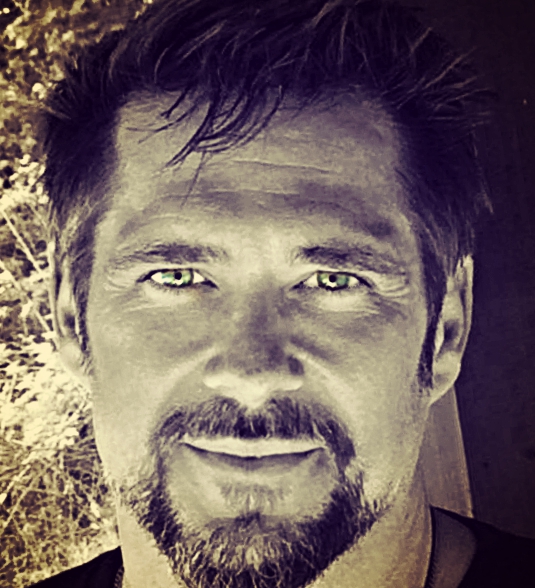 Visit The Tattoo'd Spirit Website
Jeff Burr, C.Ht, founder of The Tattoo'd Spirit, Spiritual Therapy, is a motivational speaker, creator, and former host of Spirit Matters Radio Show. Jeff works with Tarot Cards, Hypnosis, Neuro-Linguistic Programming, Guided Imagery and other modalities, to propel his clients toward the futures they most desire.
Jeff's unique talent as a certified Hypnotherapist, along with his diverse skillset and natural ability to tune into his client's energies, have led him to sharing his knowledge with others seeking spiritual growth, clarification, and inspiration.
Jeff holds a Psychology Degree from Wheeling Jesuit University, with advanced studies from the Institute of Psycho-Structural Balancing in Los Angeles. His passionate interest in how the mind works, coupled with his insatiable appetite for all things Metaphysical, Quantum, and Spirituality-related, led him on a journey deep into these areas of study. In the meantime, he graduated with Honors from the Hypnosis Motivation Institute, the world's first nationally accredited college for hypnotherapy, as a Certified Hypnotherapist.
As a natural Empath, Spiritual Seeker and Hypnotherapist, Jeff connects with his clients on a much deeper level than most people have experienced with a Tarot Reader, Therapist, or Coach. This unique combination has propelled his career and attracted a diverse international client base.
Jeff's belief is that we co-create our life with Spirit/God/Universe and that Tarot is a means of communication with our Higher-Self....one that holds our highest good as its primary focus. Allowing the natural processes of our mind to reach for and trust the intuition that Tarot cards inspire, offers us insights that assist in our life's journey.
Much of Jeff's personal journey began in 1977, when he started an in-home massage business in Los Angeles. His business rapidly "caught fire" by word of mouth, and drew in many high-profile clients, along with people from all walks of life.
This rapid-fire growth wasn't about massage. It was the deep, spiritual conversations that took place over the massage table. Jeff shared inspired new perspectives and insights, and many of his clients began living their lives a little differently. This led to them seeing a change in how they were showing up in life, and what life delivered back as a result.
This was Jeff just being Jeff...teaching and modeling his loving attitude and positive thinking, while sharing his knowledge and philosophies about what the Tarot offers, as he worked with his clients. The transformative techniques and methodologies he shared with his clients kept them coming back for more and sharing his teachings with others.
Eventually, by popular request, Jeff started to hold weekly "Spiritual Teachings" in which he shared simple tools that people could use in their own lives to move toward more desirable outcomes. The most asked about subject in these sessions, involved how Jeff works with the Tarot to enlighten and guide his clients toward positive transformation.
Jeff says "Most people think they're not in control of their lives, so they ask "What's going to happen to me?" And to this Jeff encourages his clients to inquire, "What is so about where I'm going?" and then he takes them on a journey into understanding how they are attracting that particular future to themselves.
Jeff believes that in Tarot readings, there are often inevitable choices to be made, but there is always a way to perceive the happenings in life as the precious gift they are intended to be. Part of the beauty of this magical journey we call life.
Tarot is a tool that helps us to navigate how our lives unfold, by guiding us to a better understanding of the forces at play all around us. This way, we can more intuitively interact and interrelate with the universe around us.